Upcoming Meetings
The Board of Directors for Cimarron Municipal Utility District meet on the third Wednesday of each month at 12:00 p.m. at:
Allen Boone Humphries Robinson LLP
3200 Southwest Freeway, 24th Floor
Houston, Texas 77027
Latest News
Doo the Right Thing!
Posted: Apr 26, 2022 1:14pm
Picking up after your pet is easy! When walking your pet, just make sure to bring a bag, clean up the waste, and then dispose of it in a trash receptacle...
View Post
CANCELED: March 16th Regular Meeting
Posted: Mar 15, 2022 8:52pm
The meeting scheduled for March 16, 2022 has been canceled.
Only Rain Down the Drain!
Posted: Apr 16, 2021 4:38pm
The U.S. Environmental Protection Agency (EPA) lists pet waste as a significant source of non-point pollution. Pet waste left on lawns, curbs, sidewalks, and streets can wash into local waterways during a rainstorm. Remember, stormwater currently receives no treatment. Water that flows into your stormwater drainage system goes directly into our bayous, rivers, and bays.
Please pick up after your pet!
View Post
WHCRWA Fee increase
Effective January 1st, 2019 the WHCRWA fee for ground-water pumpage will be increased to $2.95/1000 gallons while the surface-water fee will be increased to $3.35/1000 gallons.
---
What is the WHCRWA Fee?
The West Harris County Regional Water Authority ("WHCRWA") is a governmental entity created by the Texas Legislature that assists in converting the region within its boundaries from using groundwater to predominantly surface water. In order to comply with the legislative mandate to reduce groundwater usage, Cimarron MUD ("the District"), along with other municipal utility districts in the area, are part of the Groundwater Reduction Plan ("GRP").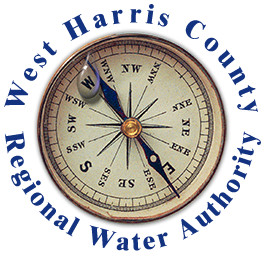 To comply with the groundwater reduction mandate, the WHCRWA is responsible for constructing the necessary water delivery infrastructure to deliver surface water to the areas within the WHCRWA. In order to design, construct, and operate the necessary infrastructure, the WHCRWA assesses fees to the well owners/municipal utility districts within the WHCRWA's boundaries based on the amount of water pumped by their wells or the amount of surface water received from the WHCRWA.
The WHCRWA assesses a fee for both groundwater and surface water usage by residents. This fee is used by the WHCRWA to fund projects and to meet legislatively-mandated surface water conversion goals. Find more information on the WHCRWA and their programs on their website, www.whcrwa.com.